Healdsburg is a charming city in Sonoma County renowned for its thriving wine industry and stunning natural beauty. These and many other factors have placed Healdsburg on the map as one of the most desirable places to live. The
quality of life in Healdsburg
is something that many people truly prize. Its laid-back vibe is enhanced by its small-town charm and unique shopping, dining, and entertainment venues.
Healdsburg's
median household income
was $94,375 in 2020, and the median home value was $824,300. These were slightly higher than
Sonoma County's averages
. In addition, the city is only 30 miles from Sonoma's coast, where residents can enjoy scenic beaches, breathtaking ocean views, and recreational activities.
It's not just about the numbers, though. The vistas afforded by Healdsburg are breathtaking as it's nestled between beautiful vineyards and scenic valleys. The city also has affluent neighborhoods that have attracted the attention of celebrities and other high-net individuals through the years. The following are some of the most elegant homes in Healdsburg.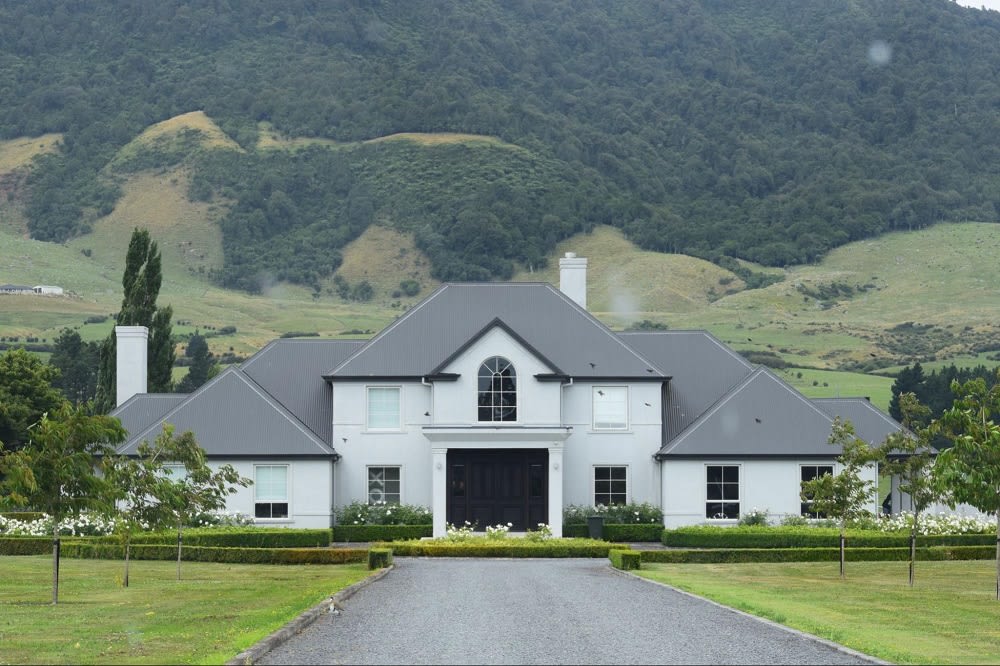 Sheldon Harte's exceptional mansion with European antiques
Nestled in the Alexander Valley of Healdsburg amidst the breathtaking landscapes of Healdsburg's wine country, this exquisite residence captures the essence of contemporary design and tranquility. Designer Sheldon Harte was the visionary behind this masterpiece. His eye for detail and devotion to perfection are evident in the amazing architecture of this home.


The interiors of this stately home are decorated with exquisite décor sourced from Europe. The open-concept living space seamlessly merges the kitchen, dining area, and lounge, creating an inviting atmosphere. The windows and doors stretch 10 feet tall, which is significantly more than the standard seven feet, while the ceiling height clocks in at 20 feet. Harte's masterful use of natural elements, such as exposed wooden beams, throughout the home helps accentuate its comfortable and inviting atmosphere.


The lounge offers incredible views of the surrounding vegetation and features floor-to-ceiling glass doors to maximize the stunning vistas. It also features plush sofas in neutral tones, creating a cozy spot to unwind. The great room and the bedrooms are equally stunning and feature expensive furniture. On the outdoors, the house boasts an amazing bocce ball court that provides a fun way to indulge in the joys of family gatherings.
Healdsburg Victorian farmhouse worth $5.4 million
Also dubbed the "White House," this elegant Victorian farmhouse is one of the most beautiful houses in Healdsburg. It was built in 1871 for a local blacksmith and is just off the Healdsburg Plaza. However, it was later abandoned for 60 years until 2009, when Phillip Engel and Mark Goff bought it and transformed it to give it the celebrity status it enjoys today.


This home combines old architecture with modern comforts, creating a breathtaking space. The home's essence is one of simplicity and elegance, thanks to its white color scheme. Phillip and Mark redesigned the interior of this Victorian beauty thoughtfully, paying close attention to details. They restored the original hardwood floors and installed tall windows to flood the rooms with natural light. In addition, they redesigned the kitchen to make it bigger and renovated the bathrooms with modern fixtures and luxurious finishes.


The outdoor spaces provide a serene retreat within the heart of wine country. It features an expansive deck perfect for entertaining guests or simply savoring a drink. In addition, it is surrounded by meticulously landscaped gardens that create a sanctuary for relaxation and reflection.
Harvest Home 8 in Montage, Healdsburg
This luxurious home is one of the largest in the famous 258-acre Montage, Healdsburg. It sits on a quarter-acre lot and is surrounded by rolling vineyards. This upscale residence is basically an extension of the five-star hotel and gives owners a unique combination of easy access to the hotel's amenities and privacy. Owners can enjoy access to a residents-only club with a private pool, fitness center, and pickleball courts. Other amenities include a spa, restaurants, and a 24-hour concierge.


This home was listed in January 2023 for $7.9 million. It has four bedrooms, four and a half bathrooms, and a garage with golf cart access. Some of the standout features of this home include a private plunge pool, custom wine storage, and an expansive covered terrace with a firepit. The interior features modern furnishings, floor-to-ceiling windows, and plenty of natural wood.
Healdsburg 1: A palatial home
One of the standout features of this mansion is its massive glass walls that blend indoors and outdoors, giving off a feeling of grandeur and spaciousness. Designed by Feldman Architecture for a venture capitalist, this home sits atop a hill overlooking Healdsburg City. It boasts expansive social space and great privacy. It is rectangular, with the four walls being made of glass. The concrete floors extend beyond the walls into a poolside patio on one side of the building and a terrace featuring a fire pit on the other. These two amenities provide a comfortable outdoor space during all seasons.
$3.5 million mansion in Madrona Forest
With its stunning architecture and breathtaking landscapes, this mansion epitomizes serenity and sophistication. It has four separate buildings linked by boardwalks. Three are sleeping cabins, and the fourth is a two-structure unit that acts as a lounge, kitchen, and dining area.


All the buildings are painted black on the exterior. The interiors feature built-in furniture, clear cedar, and exposed plywood that create a true reflection of luxury and refinement. The compound boasts a 42′ x 23′ saline pool, a hot tub, a cold plunge pool, an in-ground trampoline, and well-manicured gardens. The pool has breathtaking views of the surrounding forest and the rolling hills in the distance. The gourmet kitchen is equipped with modern appliances and has ample counter space.
Become an owner of a Healdsburg luxury home
Are you looking to own one of the luxurious Healdsburg estates?
Mark Stevens & Associates
can help you. Mark Stevens & Associates is a reputable brokerage that deals in vineyards, wineries, and residential properties in Healdsburg.
Contact Mark Stevens & Associates
today to find wineries, vineyards, and homes for sale in Healdsburg.